From The Columbia Daily Herald – Tim Hodge
Maury County registered a 5.6 percent preliminary unemployment rate for February, giving the area one of the 10-lowest percentages in the state, according to Tennessee Department of Labor and Workforce Development data.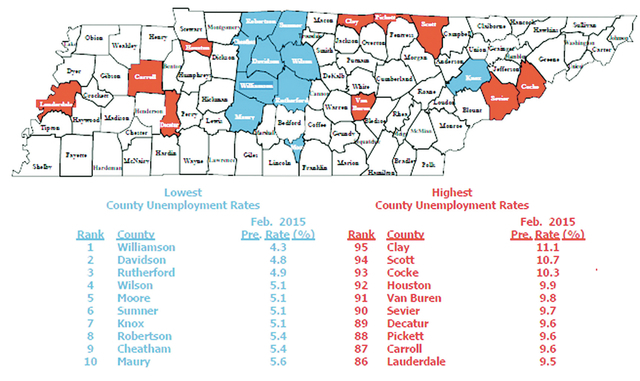 Maury County was No. 10 of 10 on the list.
The figures, released Thursday, showed the 5.6 percent rate was a 0.8 percent decrease from January's revised rate of 6.4 percent. In February 2014, Maury County had a 6.3 percent unemployment rate.
"I think people are finally feeling confident about the economy and the ability to find employment," Maury County Chamber and Economic Alliance President Wil Evans said. "Not in just Maury County, but in the region, a lot of people are hiring."
Being on a list of top performers helps get the community's name in the public and solidifies Maury County as a contributor to the Nashville area market, he said.
South Central Tennessee Workforce Alliance Executive Director Jan McKeel said she cannot recall Maury County landing on the top 10 list recently. She was unsure whether the county ever has been on it before.
I think it is proof that things are heading in the right direction. It's proof in the local economy and the statewide economy that things in Middle Tennessee are going well.Jan McKeel
The area recently has seen steady growth in its available workforce, McKeel said.
Maury County had 40,740 people in its labor force last month, of which 38,440 were employed and 2,300 were unemployed, according to the TDLWD data. The county added 100 more people from January to February.
McKeel credits the increase to a change in attitude for job seekers because people look for work when they believe there are jobs available.
However, McKeel expressed careful optimism looking forward.
"I am cautious that it could easily change at any minute, especially being so tied to the automotive industry, even though things are going well in the automotive industry right now," she said.
Williamson County showed the state's lowest unemployment rate at 4.3 percent. Clay County registered the highest rate of 11.1 percent.
Tennessee's February preliminary unemployment rate was 6.6 percent, 0.1 percent lower than the January revised rate of 6.7 percent, according to TDLWD data. The U.S. February preliminary rate was 5.5 percent, down 0.2 percent from the previous month.
State and national unemployment rates are seasonally adjusted, while the county unemployment rates are not. Seasonal adjustment eliminates the influences of weather, holidays, the opening and closing of schools and other recurring seasonal events.
Read the full Labor Report here.