The Nashville Business Journal's newest 40 Under 40 class was honored at the Omni Nashville Hotel Thursday, March 26, 2015.
Maury County's Wil Evans was included in this impressive group of business leaders. As CEO of the Maury County Chamber and Economic Alliance, Evans works with the board of directors, oversees chamber membership and works with volunteers and other area organizations.
I am both honored and humbled to be recognized with such a prestigious group of professionals. I am more excited, however, about the opportunity this represents for Maury County to be acknowledged amongst the Nashville community. Wil Evans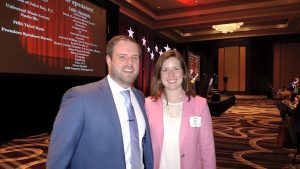 The men and women on this awards list come from a variety of industries with a variety of backgrounds, but they have a couple of things in common. For starters, they're all making a difference in their industry and community. And they've all yet to reach their 40th birthday.
The NBJ 40 Under 40 winners were nominated by the public and chosen by a panel of judges (past winners themselves) who looked at a wide range of criteria.