Maury County is located just 35 miles South of Nashville, TN and 80 miles North of Huntsville, AL. Made up of three unique cities; Columbia, Mount Pleasant and Spring Hill, from farm land to one of the fastest growing cities in Tennessee, Maury County can offer everyone exactly what they are looking for.
Meet Maury
New to Maury County and ready to learn more about the community?
Made in Maury
Hear the people and stories that make Maury County unique.
Named for pioneer surveyor, Abram Maury, Maury County was open for settlement after the signing of the Dearborne Treaty of 1807.  The next year, a small group of South Carolina Presbyterians moved into the area and established a settlement known as the Zion community.
Prior to becoming a city or having a name, the site of Columbia was land granted to Nicholas Long, a North Carolina Revolutionary War colonel.  Passed down by his heirs, it eventually sold to John White who later sold 150 acres on the south bank of the Duck River for the county seat.  Other communities settled in the county are: Mount Pleasant, Spring Hill, Culleoka, Hampshire, Santa Fe, Water Valley, and Williamsport.
Agriculture dominated Maury County's early industry with a number of mills and tanneries.  A leading mule market for more than a century, Columbia continues to celebrate the working breed during the Mule Day celebration on the first weekend of April.
Maury County was home to the eleventh President of the United States, James Knox Polk (1845-1849).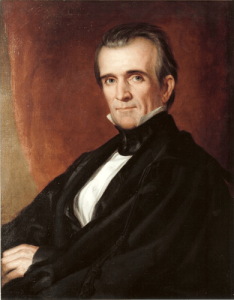 His restored ancestral home in downtown Columbia and is one of many homes where visitors can take a walk into the past.
During the Civil War, Columbia changed hands several times between Confederate and Union occupations.  Plantations and the antebellum homes were occupied by soldiers and battles were fought at Franklin and Spring Hill.
Mount Pleasant became the center of a mining boom before the turn of the century when phosphate was discovered.  The production of elemental phosphorus brought industrialization to the county. Today, you can rediscover the heritage of the phosphate era by visiting the Phosphate Museum in Mount Pleasant.
In the mid-1980's, Maury County's economic future was shaped by the announcement that the Saturn auto plant would build in northern Maury County. Today, Maury County boasts a diversified economy, a thriving Courthouse Square and downtown area in Columbia.  Spring Hill, the northern city in Maury County, is one of the fastest growing cities in the State.