Maury County, the best location for your business and your life.
Maury County is located on I-65 between Nashville, TN and Hunstville, AL - two of the hottest markets in the United Sates. We have a regional airport within the county and are less than an hour drive from Nashville International Airport with daily flights to Europe. 70% of U.S. Markets can be reached within a day's drive and 75% are within a two hour flight. Ten Automotive OEM are located within a four hour drive and one of the top U.S. HQ markets is within a 30 minute commute. Both CSX and TN Southern Railroad provide rail access through the county.
Maury County is the strategic choice for your business.
Schedule a project overview meeting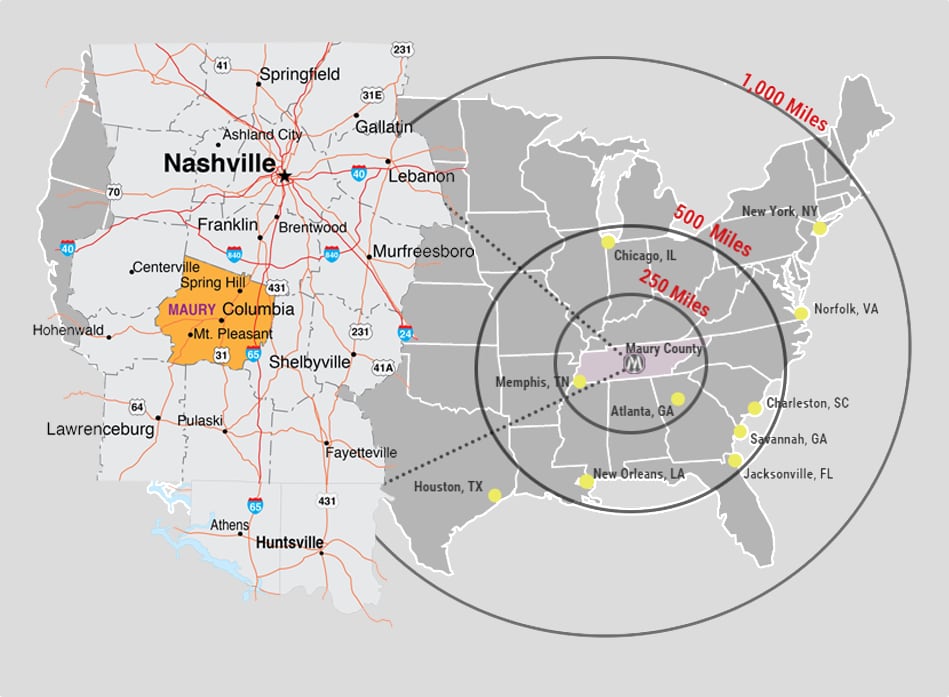 Located on I-65 between Nashville and Huntsville, two of the hottest U.S. markets
Part of the Nashville MSA
Less than one hour from Nashville International Airport
Within a 30 minute commute of one of the top U.S. HQ markets
Within a one day drive of 70% of U.S. markets
Within a four hour drive of 10 Automotive OEM
Two Rail providers (CSX / TN Southern Railroad)
Nashville International Airport (BNA) Nonstop Flight Map