Maury County Public Schools students are finding ways to gain workplace experience through school-organized programs and classes. As part of the seventh key of the "seven keys to college and career readiness," work-based opportunities are giving students valuable exposure to work environments and helping them as they make decisions about their future.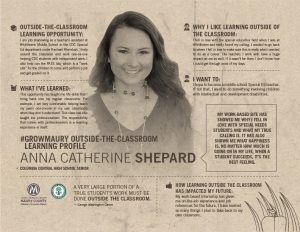 Anna Catherine Shepard, a senior at Columbia Central High School, currently job shadows as a teacher's assistant at Whitthorne Middle School in comprehensive development classes in the special education department under Rachael Rhinehart. In this position, she helps around the classroom, helps run the PAES lab and works one-on-one with CDC students. Shepard says work-based learning teaches her valuable skills she will take with her in the future.
"This opportunity has taught me life skills that I bring back into my regular classrooms," Shepard said. "For example, I am very comfortable helping teach my peers one-on-one in my own classrooms when they don't understand. This class has also taught me professionalism. The responsibility that comes with professionalism is a learning experience in itself."
Shepard also learns about what being a teacher looks like day-to-day, giving her a look at what teaching might look like for her as a career. Because of this opportunity, Shepard said she wants to pursue the necessary degrees to become a middle school special education teacher.
"I fell in love with the special education field at Whitthorne and really found my calling," Shepard said. "The teachers I work with have a huge impact on me as well. My work-based site has showed me why I fell in love with special needs students and what my true calling is. It has also shown me what happiness is. No matter how much is going on in my life, when a student succeeds, it's the best feeling."
Shepard isn't the only student taking advantage of work-based learning sites. MCPS also offers opportunities in fields like criminal justice, retail, manufacturing and more. These courses will continue to help graduates be prepared as they enter college or the workforce.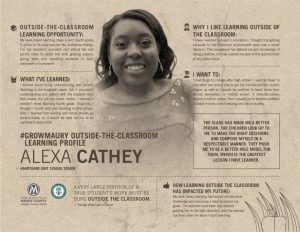 Alexa Cathey, senior at Hampshire Unit School, has also discovered her future career through a work-based learning opportunity. Cathey is currently a teacher's assistant in Katherine Worley's fourth-grade ELA/Social Studies classroom during Worley's final period. Cathey helps with grading papers, giving tests and individually helping students with their classwork. Her experience in Worley's classroom has solidified Cathey's decision to pursue a degree and career in education.
"I knew I wanted to major in education, so I thought that getting exposure to the classroom environment early was a smart decision," Cathey said. "This experience has helped me gain knowledge of being a teacher, and has opened my eyes to the opportunities of my future major."
Cathey said she also has learned workplace skills like the best ways to be understanding and patient with students and how to conduct herself while in a position of authority. Along with learning the ins and outs of being a teacher, Cathey has also learned more about what kind of education she should pursue.
"I learned that reading and social studies go hand-in-hand, so it would be wise for me to be certified to teach both," Cathey said. "I want to major in education, and would love to get my interdisciplinary studies degree as well so I would be certified to teach more than strictly elementary or middle school. If interdisciplinary studies are not an option, then I would like to become certified to teach middle school reading and social studies."
Work-based learning is providing students across MCPS with opportunities to learn outside of the traditional classroom setting. By giving students exposure to the workplace early, MCPS hopes students will feel more confident upon graduation in their abilities to succeed in college and the workforce.
Students interested in participating in a work-based learning opportunity to contact their school administrators to find out what opportunities are available.