CHERRY GLEN INDUSTRIAL PARK
Southern Business and Development Magazine names Cherry Glen Industrial Park in top 5 Best Small Town Industrial Sites. Take the virtual tour here. 
305 Select Tennessee Certified Acres within a 1 hour drive of Nashville
Shovel Ready with extensive due diligence reports available upon request
Less than 20 miles from I-65
All industrial grade utilities already in place including a sub-station and high pressure gas gate in the park
Located directly off of 4-lane divided US Highway 43
You don't have to look too far for perfectly prepared sites. That's because each site that bears our name is backed by the most rigorous set of site selection standards. Within the Certified Cherry Glen master-planned industrial park, you will find numerous opportunities for a wide range of facilities.
Here, you will find 305 acres ready for development with numerous options for lot configurations. Four internal roadways and all major utilities have been extended to provide access to each available lot, ranging in size from 10 to 150 acres.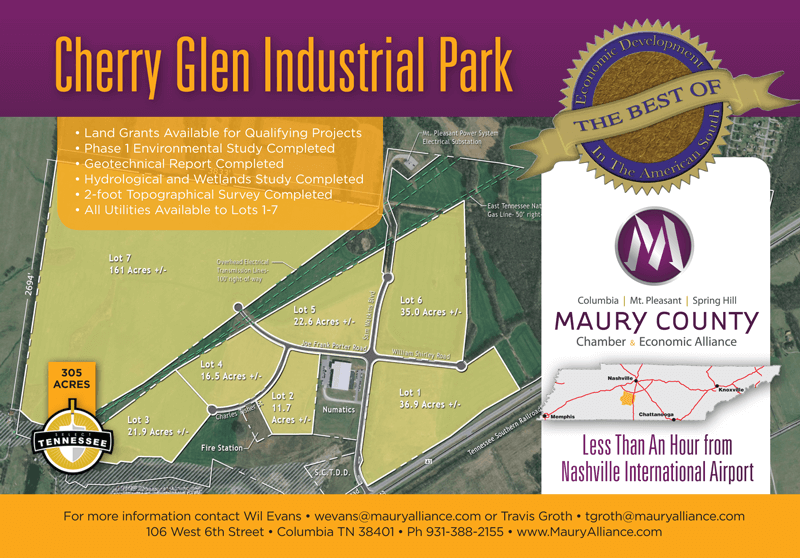 SITE OVERVIEW

Site Address: Highway 43 and Sam Watkins Blvd.
City: Mt. Pleasant
County: Maury
Site ownership: Public
Site acreage: 305 acres
Developable acreage: 303 acres
Additional acreage available: No
For sale or lease: Sale
Sale/Lease price: $12,000 per acre
Zoning: M – 1 industrial
Site covenants: Yes
Impact fees: Yes
Foreign trade zone: No
Distance to four-lane highway: 18 miles
Rail service: Not available

UTILITY SERVICE

Electric line serving site: 13 kV
Electric service to substation: 46 kV
Dual feed service: Available
Natural gas service: 4" line / 48 psi
Water line serving site: 12"
Water system capacity: 1.4 MGD
Excess water system capacity: 650,000 GD
Wastewater line serving site: 12 inch Wastewater system capacity: 1.6 MGD
Excess wastewater capacity: 300,000 GD

TECHNICAL STUDIES AND REPORTS

Two foot topographic survey: Available
Geotechnical survey: Available
Site grading plan/design: Not available
Flood hazard: A portion inside flood plain
Phase 1 ESA: Available [December 2012] Endangered species desktop review: Available
Hydrologic determination: Available
Cultural resource desktop review: Available