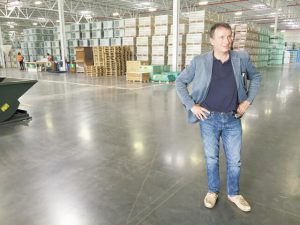 By James Bennett
jbennett@c-dh.net
When Landmark Ceramics CEO Federico Curioni decided on Mt. Pleasant as location of the Italian company's North America headquarters, he weighed dozens of factors, from the availability of land to the presence of a qualified workforce.
The acquisition of 96 acres of land at 1433 N. Main St. — near the Maury County Regional Airport off U.S. Highway 43 — turned out to be one of the easier details. Finding qualified workers for the porcelain tile production and distribution facility was one of the most challenging.
As the $85 million plant begins production this week, Landmark employs 75 workers, some from Italy, and will expand to 180 at maximum capacity. Curioni said the company will need 120 workers to run production 24 hours a day in Mt. Pleasant. To read more click here….