Northfield Workforce Development and Conference Center is a 350,000 square foot office park and Nationally recognized training facility located in the top 5 fastest growing areas in Tennessee.
Centrally located in the state of Tennessee and conveniently off of the Saturn Parkway adjacent to I-65, the Workforce Development & Conference Center at Northfield is an ideal location for companies to locate their operations. With simple access and versatile spaces ranging from 7,000-50,000 square feet, Northfield is most capable of accommodating businesses needs for space at an economical price point. Northfield is also home to 5 schools and institutions, and has additional training space available to meet the workforce development needs of companies co-located on our 340,000 sq foot campus.
We have a Northfield 360 degree virtual video tour  available now!
Click on the image to the right to take your tour of Northfield:
Property Details:
Property address: 5000 Northfield Lane, Spring Hill, TN 37174
County: Maury
Type of space: Office Space
Parking: Designated Reserved
Available: Yes
Zipcode: 37174
Site/Building Name: Northfield Workforce Development and Conference Center
Minimum available: 5,000 sf
Maximum available: 70,000 sf
For sale: No
For lease: Yes
Ownership: Public
100 Seat Auditorium
300 Seat Multi-purpose Room / Conference Center
250 Seat Cafeteria with Full Commercial Kitchen
[soliloquy id="1406"]
[soliloquy slug="northfield"]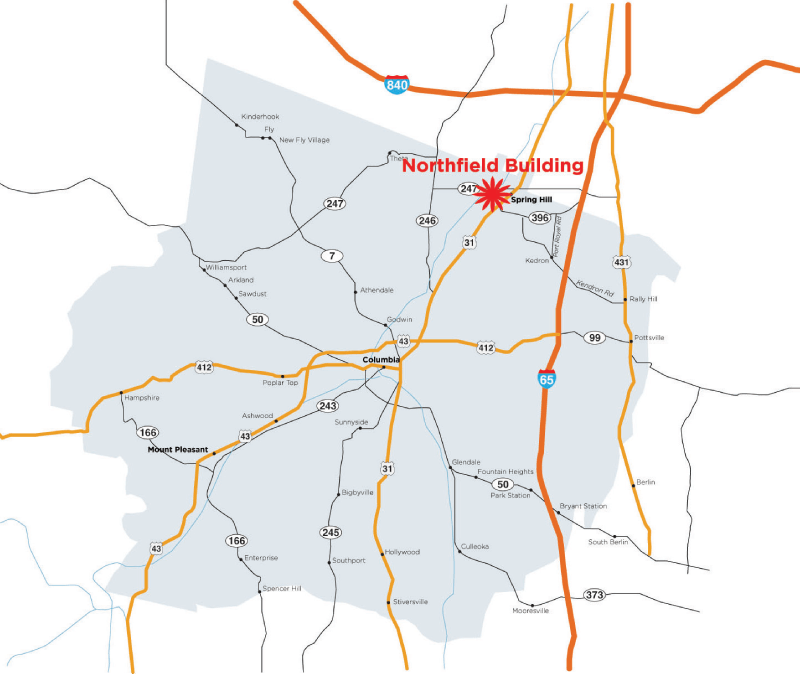 Transportation Access
Distance to Major Interstate: 7 miles to i65
Distance to Major Highway: 0.25 miles to Hwy 31
Distance to Major Commercial airport: 43 miles to Nashville International (BNa)
Distance to port: 43 miles to Nashville
Rail access: no
[contact-form-7 id="611″ title="Economic Development Contact"]