This annual event is our opportunity to gather community partners together to network, celebrate past accomplishments, and talk about our goals for the future. We also highlight our volunteer leadership team and acknowledge their commitment to our organization. This year our community truly showed up and celebrated with us at another sold-out Annual Meeting!
Annual Meeting was made possible this year with the help of our wonderful community sponsors: Brindley Construction, LLC – Columbia Machine Works – Columbia Power & Water Systems – CRVAS, LLC – Fast Stop Markets – Lee Company – Mid-Tennessee Bone & Joint Clinic – Tenn Pin Alley – Tennessee Valley Authority – Zion Christian Academy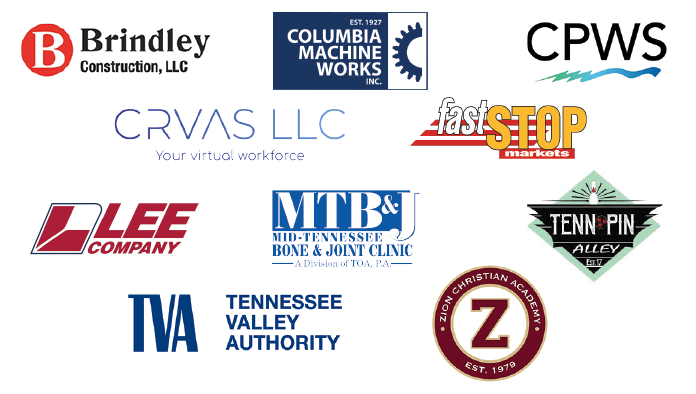 Key Highlights from 2022
We had three announcements, Ultium Cells expansion in Spring Hill, Fiberon relocation in Columbia, and Brazilian professionals relocation in Mount Pleasant. These announcements resulted in 820 new jobs with an average wage of $50,000.
We made great strides in our Align Maury Workforce development program, including the creation of a Talent Attraction Campaign which you can check out at www.mauryisready.com.
Our Chamber membership finished one of our strongest years to date with 599 members, representing over 20,000 employees. This represents an 11% growth rate, which is the largest we have seen in almost 10 years.
We supported our entrepreneurial ecosystem by:
Re-engaging with the TN Small Business Development Center
Working with the Tennessee Placemakers grant program to distribute over $30,000 of grant funding to support a local entrepreneur center
And conducting an inaugural Mastermind cohort, in partnership with the Spring Hill Chamber which held a pitch contest, awarding $14,000 to two local small businesses who were expanding.
Finally, we continued our Local First Gift card program, keeping $33,000 local in Maury County, which brings the total to over $100,000 since 2020.
Advance Maury Campaign Update
In 2020 we launched the 5-year capital campaign – Advance Maury.
Our Advance Maury Strategic plan had four goals:
To create 2,000 jobs in Maury County
To inject $90 Million in new annual payroll for Maury County
To secure $225 Million in Capital Investment for Maury County
To conduct 125 Business expansion/retention visits
As of December 2022, we have:
Announced 3,364 new jobs coming to Maury County
Announced $151 Million in new annual payroll
Announced 4.83 Billion in new capital investment
Conducted 94 existing industry visits
We have well exceeded three of our four goals and are on track to exceed the fourth as well. While these numbers are exciting, we understand that this momentum may not be sustainable, so we spent a great deal of time in 2022 gathering input from our key stakeholders and re-calibrating our strike zone to ensure that we are focusing our resources as an organization on projects that are truly going to move the needle forward for Maury County.
Chairman's Award for Volunteerism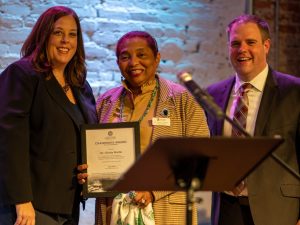 Dr. Christa Martin was presented with with the 2022 Chairman's Award for Volunteerism in acknowledgement of her years of service and dedication to this community.
Meet your 2023 Volunteer Leadership
Board Chair: Russ Adcox – Maury Hills Church
Chair-Elect: Stephen Hughes – First Farmers Bank
Past-Chair: Kelley McCall – TriStar Bank
Treasurer: Richard Law – Baird – The Parker Group
Chamber Council Chair: Rob Ferrara – First Farmers Bank
Economic Development Council Chair: Jimmy Phillips – BMC Metalworks
For a full list of our leadership team visit mauryalliance.com/board.
Event Pictures
Thank you to Visual Media Co. for capturing pictures at Annual Meeting. Here are some of the highlights, but the full catalog of images can be viewed here.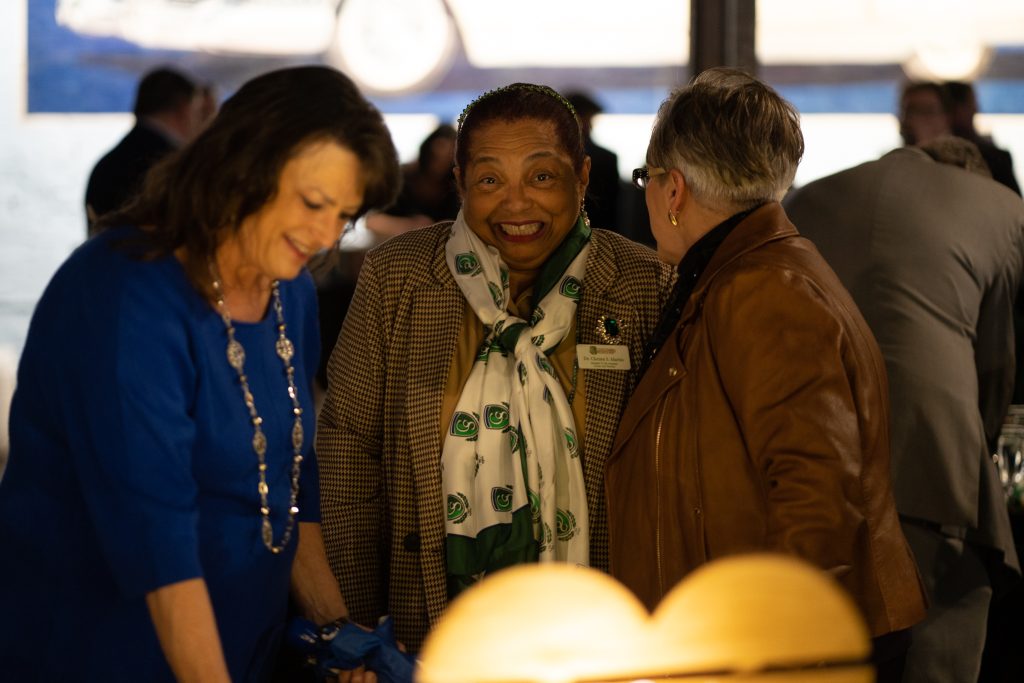 Table Decorations
Our table decorators invest a lot of time and energy to make Annual Meeting look fantastic and keep this tradition going. We sincerely thank them for their hard work and encourage everyone to visit our Facebook page and admire their creativity.
The 2023 Table Awards went to Nickell Co. for "Best All Around" and Breezy Powerwash for "Most Creative".