Businesses in Maury County are finding innovative ways to have a stake in education, and play a role in generating good education statistics that positively impact the county's workforce quality and pipeline of skilled workers – which ultimately boosts the economy.
On July 31, the Maury County Chamber and Economic Alliance, in partnership with Maury County Public Schools (MCPS), launched the Be A Good Stat – or #BeAGoodStat on social media – campaign that utilizes faces and personalities local to Maury County to share how everyone can support education by being part of a good statistic.
The campaign is part of the Grow Maury Initiative, aimed at making educational achievement a top community priority for workforce development, economic competitiveness and citizen quality-of-life.
In Mount Pleasant, Smelter Service Corporation, an aluminum recycling company, launched Smelter Service Campus. Now in its second year, the program provides outreach to area schools and a curriculum that teaches valuable job application and interview skills, job searching, how to write resumes and cover letters, workplace etiquette, civic involvement and Smelter Service employment opportunities.
Students who complete the four sessions of Smelter Service Campus receive a tour of Smelter Service, have a graduation ceremony at Mount Pleasant Grill and are eligible to apply for an internship at Smelter Service.
"Students and community members often have the perception that there are few good jobs in Mount Pleasant, and Smelter Service Campus seeks to show this is not the case," said Smelter Service Cultural Development & KOS Leader Sara Williams. "There are 14 manufacturers in Mount Pleasant providing jobs, and manufacturing is a growing industry with a wide range of career options and opportunities for advancement. We want students and parents to realize the wealth of opportunities right here in Maury County."
Heritage Bank & Trust, based in Columbia, Tennessee, is another prime example of a Maury County business providing outside-the-classroom and work-based learning opportunities for students. The community bank learned about the Grow Maury Initiative and the push for career-readiness within the area schools through the MCPS "Seven Keys to College & Career Readiness" and decided to be part of good statistics.
The bank launched their Youth Advisory Board (YAB) this year, a volunteer committee of up to 18 youth members consisting of high school juniors and seniors from each of the county's schools, both public and private. YAB members serve a maximum of two years, and recommend new products, services, events and strategies to help the bank reach current and potential youth customers. It is also a way for the bank to educate students on future careers in banking.
"Students learn about community banks and boards through the Youth Advisory Board, but they also have the opportunity to job shadow," said Heritage Bank & Trust Marketing Director Claire Sellers. "The students talk to each employee about his or her career path. It teaches students about the different departments within a bank and their functions. After this meeting, we had a couple students express interest in information technology internships with the bank. Students also write essays at the end of the program, with one student receiving a $500 scholarship."
In addition to YAB, Heritage Bank & Trust has internship opportunities providing hands-on, real-world experience for college and high school students. The organization currently has three college interns and one high school intern. The college interns conducted banking transactions, but also spent at least half a day in each department of the bank learning about career paths.
The Maury Alliance, we set our own example of outside-the-classroom learning opportunities for students with Youth Leadership Maury, a county-wide program for high school juniors designed to foster leadership skills, community development and networking. Class members meet with local decision-makers in several sectors of the community like business, government, health, public services and agriculture.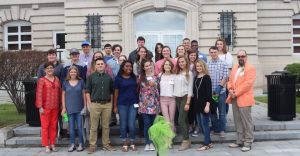 Youth Leadership Maury participants visit places throughout the county to hear from speakers and participate in activities to learn about Maury County and how to positively impact where they live, learn, work and play.
"The program helps our young community members learn the necessary leadership skills to build a stronger community," said Maury Alliance Communications and Events Manager Bethany Orban. "It also helps students discover different career paths."
This quarter, the Grow Maury Initiative has turned its attention to the importance of these outside-the-classroom, work-based learning opportunities. The Tennessee Department of Education finds that in an increasingly complex global economy, all students must be prepared with intellectual, technical and social skills needed to compete and contribute meaningfully to their communities. In their Work-based Learning Policy Guide, the Department explains the importance of this focus in bridging the gap between high school and high-demand, high-skill careers that cannot be acquired simply through classroom-based instruction.
The business community in Maury County can do its part. The Maury Alliance encourages businesses and organizations to provide outside-the-classroom learning through job shadowing, classroom speaking engagements, tours of their facilities, councils or programs, internships, apprenticeships or volunteer opportunities.
The impact on students and their futures is undeniable. Spring Hill High School Senior Allie Guerrero, who serves on the Heritage Bank & Trust Youth Advisory Board and shared her insights at the recent Ready, Set, #BeAGoodStat education summit event, is proof.
"I'm grateful for the programs in place here in Maury County that enabled me to discover my future career path in mechatronics," said Guerrero. "I'll be entering college, and eventually the workforce, better prepared with valuable skills that will help ensure a brighter future for me, and my family."
Students interested in participating in these work-based learning opportunities can contact these individuals for an application or more information:
Heritage Bank & Trust Youth Advisory Board: Claire Sellers at csellers@heritagebankandtrust.com.
Smelter Service Campus: Sara Williams at swilliams@smelterservice.com.
Youth Leadership Maury: Bethany Orban at borban@mauryalliance.com.