Scott Harrison-Staff Reporter Nashville Business Journal
The country's strongest auto manufacturing sector is right in our backyard.
Economic development trade publication Business Facilities ranked Tennessee the top state in the nation for auto manufacturing. The same magazine, which writes for corporate site selectors and economic development professionals, has ranked Tennessee the top state in the U.S. for economic development the past two years.
Tennessee reclaimed the top spot from Alabama. The Volunteer State has earned this distinction five of the past six years.
Business Facilities highlighted Volkswagen's North American assembly plant in Chattanooga.
"[Tennessee] has built an impressive Tier-1 supplier network around its automotive crown jewel," the magazine wrote of the VW plant. "VW, recently outpacing Toyota as the world's top-selling car brand, is in the midst of a $1 billion expansion at the [Tennessee] facility."
Filled with controversy tied to a UA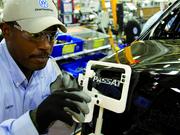 W vote to unionize the plant last February, the VW expansion is expected to give Tennessee a nearly 10,000-job boost, according to a study from the University of Tennessee-Knoxville.
The auto sector is also big business in Middle Tennessee. Behind Vanderbilt University, Franklin-based Nissan North America is the second largest private employer in Middle Tennessee, according to our research. This year, the automaker has nearly 11,000 full-time employees, a total greater than Metro Nashville Public Schools.
My colleague Adam Sichko recently reported on the breakneck growth at Nissan in Middle Tennessee, including its Smyrna plant, which last year produced more vehicles than any other auto factory in North America. Nissan is investing $160 million to build a new massive supplier park on its campus, expected to generate 1,000 jobs.
Business Facilities also noted Tennessee's higher education program, ranking the state No. 1 in a new category: "Education: Tech Skills Leaders."
No, you're not reading that wrong. This ranking isn't based on school performance, but rather "the states that have made tech skill-oriented educational programs a top priority," the magazine wrote.
Business Facilities applauded the Tennessee Promise, Gov. Haslam's program to offer free two-year community or technical college to high school graduates.
"The leadership Tennessee has shown in education is a standard that should be emulated across the country," Jack Rogers, Business Facilities editor-in-chief, said on the magazine's website. "It's also the smartest formula for sustainable economic growth."
WPLN has covered how Tennessee Promise has rolled out. In March, one-third of the some 60,000 students who applied for the program were ineligible because they didn't complete mandatory first steps, Nashville Public Radio reported. Community service requirements have also been an issue. As of early July, only one-quarter of the remaining eligible students had completed their community service hours, according to WPLN.